Freshly Filtered Water, On Demand
Any way you like it.
Cold, Sparkling, Ambient & Hot
Why Kül?
The Most Useful Appliance
All day, every day - kül is perfect for refilling water bottles, mixing up sparkling spritzers, or even tea and cocoa at the touch of a button

The Ultimate Soda Maker
Enjoy effervescent sparkling water on demand - Instantly mix up your favorite mocktail or cocktail or just enjoy plain - whatever tickles your tongue

Healthy Hydration Habits
Kül helps you meet your hydration goals. Recharging your body with filtered ice cold water, boosting your mental and physical performance

No Bottles, No Hassle
Tired of carrying cases of water bottles back and forth from the store to your house? Kül keeps it convenient - reuse your own water bottle and be hassle free

Be the Change
Did you know the United States produces 30% of the world's waste and uses 25% of the world's natural resources? Make a change with kül today and reduce single beverage waste
HOW IT WORKS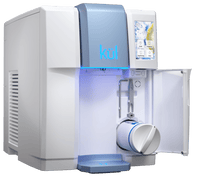 Piping Hot, Instantly

Kül Touch

Sparkling on Demand

Unmatched Cold-Water Capacity

Hygienic Design

Kül Ultimate Filter

Worry Free Returns
Return your kül for a full refund within 30 days of purchase if you don't love it.

Free Shipping
Enjoy free shipping on first time kül orders.

0% APR

3 year limited warranty
Your kül comes with a three year limited warranty that also covers all accessories.