The Technology of Pure Refreshment
Learn about the really kül technology inside of our products and how you can use kül to improve your health with filtered water just the way you like it – cold, sparkling, hot, or ambient.
What's Inside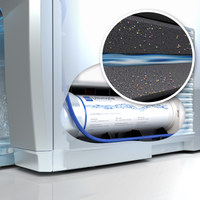 Always Filtered
Shouldn't all of your drinking water be filtered? With kül, the filtration system is the first important step to delivering clean refreshments for you and your family. 80+ contaminants removed.
High Capacity Cooling
Kül rocks the cold water, with innovative design that blows away ordinary water coolers.
Most water coolers dispense at 50°F drinking water (not cool). Kül dispenses at 42°F and can recover quickly after each dispense.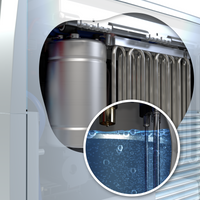 Soda Maker on Steroids
Don't you wish your soda maker used filtered, cold water, and all you have to do is press a button?
Well, we did something about that. By combining CO2, with chilled water, inside a pressurized stainless steel tank, you can now get all the freshly filtered bubbly water that you want.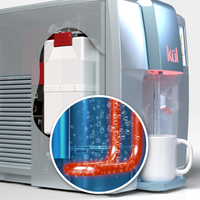 Yes, Kül is Hot
Unlike ordinary hot water dispensers, kül uses digital temperature sensors and special software to optimize the heating cycles. Always enjoy a steaming cup of hot water at 180F.
Kül's unique design provides longer life to the heating element, the critical component in any hot water system.
Kül Touch

Kül is Smart Water
Kül Touch provides you the ability to customize your water experience, using digital controls and software that keeps you informed.

Be The Change
Now everyone can get involved in eliminating wasteful bottled beverages. Kül gives you an endless source of natural refreshment that's good for your body and good for the planet.

Keep Little Hands Safe
Parental controls and lockouts can be configured to help give parents added control with young kids in the house.

Reduce Your Carbon Footprint
Energy saving SleepMode works around your schedule, reducing energy usage and helping the planet.

Select VacationMode when you're leaving town for a few days and save even more!

Smart Reminders
Kül tracks your water usage and reminds you when to change the kül Ultimate filter at 350 gallons , or 1 year, whichever comes first.

With a simple twist of the wrist, say goodbye to contaminants and hello to another 350 gallons of pure filtered refreshment.
Natural Beauty
Choose from a variety of wallpaper options to suit your mood and décor.
Sparkling Insights
Easily change the CO2 cartridge and reset the timer on the display all within seconds.
Take your refreshment to the next level with cold filtered sparkling water on demand!

Kül Speaks Your Language
Select from a range of languages, as well as metric vs standard measurements. Kül wants to be your BFF.

From Our Family To Yours
We design and build kül right here in the USA and we take pride in everything we do.
Our brand new factory is in Loves Park, Illinois and if you were here, you could say 'hi' to Bailey!

Worry Free Returns
Return your kül for a full refund within 30 days of purchase if you don't love it.
Free Shipping

0% APR

3 Year Limited Warranty
Your kül comes with a three year limited warranty that also covers all accessories.